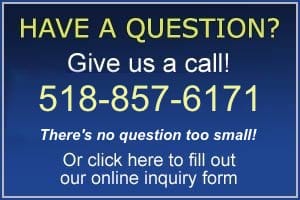 You Don't Have To Pay More To Get The Best Carpet Cleaning Services!
Schedule your carpet cleaning now and receive FREE deodorizer and carpet protectant treatment today! Just tell us you saw it on our website.
Others may only get your carpets wet. Traffic Erasers scrubs your carpet clean. Ask us how!
Our system will not damage your factory stain gaurd properties. In fact we enhance it with our free protectant in every cleaning we do!
Our service will help your carpets will stay cleaner longer.
Clean carpets make a dramatic impact on your business. Your guests want clean carpets.  As they walk on your carpet floors and use your facilities, your guests are judging your establishment.  When your guests are happy with the facilities you provide, they return,  and bring their friends.
Commercial carpet takes a lot of abuse.
Whether your establishment is a restaurant, church, office building or any other type of meeting place you know that coffee spills, soda and food stains resulting from high traffic can make a carpet look dingy and unappealing to your guests. Vacuuming removes the surface dirt but not the stains. Traditional high water carpet cleaning methods remove the dirt and some of the stains, but many times just makes the carpet look a fraction of the clean you expected. I cannot tell you how many times we make a sales call and the customer says: " We recently had some other company steam clean the floors but the stains came back".  Your guests deserve better.
Traffic Erasers™ professional carpet cleaning services use a state of the art encapsulation carpet cleaning system to revive your carpet's appearance and provide a protective coating to make the clean last longer.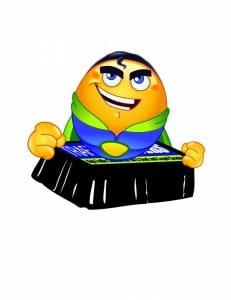 Traffic Erasers™ Encapsulation carpet cleaning is Low Moisture
Our system of carpet cleaning uses little water, dries very fast and out performs other methods of cleaning carpet. So stop drenching your carpet promoting mold, mildew ,and deterioration of your carpet backer. Not to mention it takes many hours to dry.
Traffic Erasers™ Encapsulation carpet cleaning is wicking preventative
Traditional systems of carpet steam or shampooing cleaning methods dissolve the dirt and stains and push them down into the backing that holds the carpet fibers. As the carpet dries the dirt and stains wick up from the carpet backing to the fiber surface making the stain reappear. You deserve better!
Our professional carpet cleaning services utilizes a encapsulation system with polymer technology. This technology not only releases the dirt and stains from the carpet fibers it captures or surrounds the dirt and stains into crystal form that cannot bond to the carpet fibers ever again.
In the following graphic representation you can see how dirt and past cleaning detergent sticks to the carpet fibers. Traffic Erasers™ professional encapsulation carpet cleaning surrounds the dirt and detergent during the cleaning process. We remove the bond between the dirt and the carpet fibers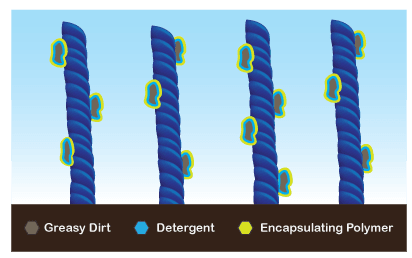 The real advantage of Traffic Erasers™ professional carpet cleaning encapsulation system is what happens as the carpet dries! Our  polymers dry to a hard crystal that separate the dirt from the carpet fibers preventing them from ever clinging to the fibers again. Dirt and grime will not re-appear because the Traffic Erasers™ carpet cleaning system does not push them into the backing or padding like traditional shampooing systems!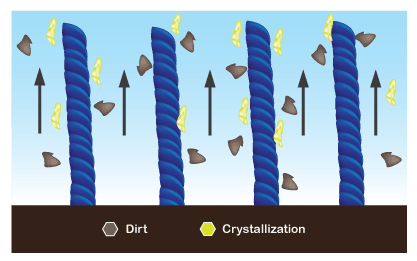 Traffic Erasers™ Encapsulation carpet cleaning is a longer lasting solution
As you have read, not only does our system surround the dirt and stains so they no longer bond to the carpet but stop the wicking process. But we do not stop there. Our system also provides a protecting coating that continues to fight new dirt and stains introduced to your carpet.
Our equipment is portable. We bring it inside your building and then close the door. This means we don't sacrifice your security or let the heat out like the companies that use truck mounted cleaning equipment and have to leave your door open to allow their hoses access.
We are a local business serving your communities from Albany to Lake George, NY
Want to see the real difference? Watch this video to see carpet cleaning at it's best!

For more information click me for the Traffic Erasers Difference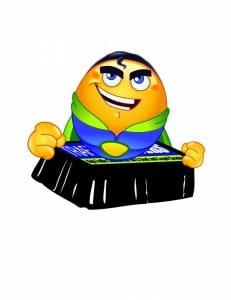 Testimonial:
"I have been an education system janitorial professional at one of the largest school districts in New York for the past 21 years. During this time I have either operated or supervised every type of carpet cleaning system available. Traffic Erasers™ carpet cleaning system took me by surprise! Not only did they remove the dirt and stains, where other systems failed, but the carpet dried in amazingly little time." –  Joseph Cuva, New York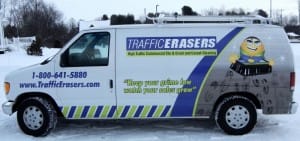 We work to satisfy your customers.!
Located in Clifton Park, NY and serving your communities from Lake George to Albany, NY.